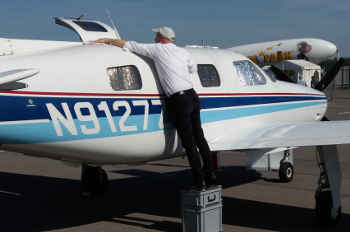 The bride has to be polished...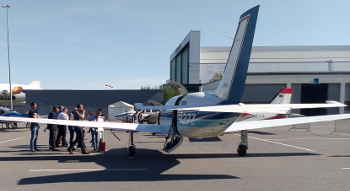 Many prospects for this Malibu...
Experts take a very close look...
Even puppies love the pressurized cabin...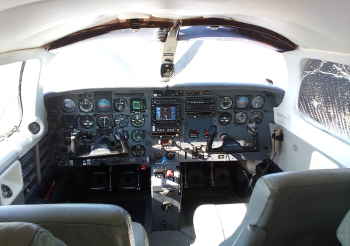 Also looks good in bright sunlight...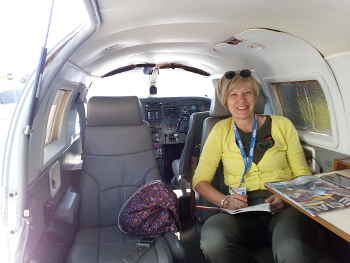 Good mood at the exhibition...
Even usable as a phone booth...
Report from AERO-EXPO at airport Friedrichshafen (EDNY)
AERO-EXPO 2018 is closed. We gave more than 70 pilots a chance to sit behind the controls and get a first impression of this fantastic aircraft. Thanks again to all of you for your interest, comments, and questions.
Here are some comments of the pilots we heard more than once.
Fantastic aircraft?
- Looks better in reality than in the video.
- The cabin is more spacious than I expected.
- I could travel with my whole family in this aircraft.
- It is quieter inside than a new Cirrus.
- This is like being in an airliner.
- With 1'700 hours left, the engine is like new.
- Nice condition. I can see that this aircraft was flown by the owner.
- N-registered is good even in Europe. Less paperwork but clear responsibility.
- Few aircraft have such complete log books. (Thanks, Jim)
- The fuselage is in better shape than I expected. No loose rivets. Also, the door columns are parallel.

Also, here are some answers to visitor questions that were asked more than once
Answers to visitor questions
How fast is this aircraft?
This depends mostly on the altitude. Here is the Original Performance Chart with the old propeller. The new propeller gives 5% to 10% better performance (according to MT manufacturer)

How long does the runway need to be?
This depends mostly on the load (passengers and fuel), airfield altitude, temperature, and humidity. Have a look at the short distance ground roll chart.

What are the costs per flight hour?
Difficult question. The critical factors include who is doing the maintenance and how many hours you are flying per year. A certified Piper shop is always able to find some "cosmetic" repairs, but if you've got a reliable A&P (Aircraft & Powerplant Mechanic), that might be a different story. Fuel cost can be calculated to between 400 and 600 Euros per hour.

How is a purchase handled?
A deposit of 12'000 Euros (or CHF or USD) is required to hold the sale. Then, you have one month to provide the rest of the agreed upon sales price. You can use this time to speak with maintenance, talk to your bank, and take a test flight. If everything is settled, you receive the aircraft and a "Bill of Sale" for the FAA so the Trust can register this aircraft in your name.


Contact, owners email

This email is spam protected. So please type this address in your email client.
Please contact me by email, because I am seldom at the office.
However, you may leave a message at +41 71 588 01 06, and I'll call you back.
Privacy Policy: This is a private web site. We do not collect any personal information.